Czech it out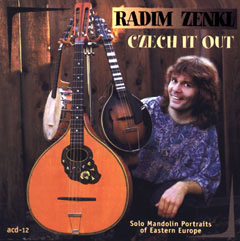 Acoustic Disc, ACD-12, 1994
Produced by David Grisman and Radim Zenkl
1) EASTERN FEAST YEARN
2) WHEN I RIDE THROUGH THAT FOREST
3) MOUNTAIN GHOST
4) ANNIE LITTLE SOUL
5) HAPPYGRASS
6) ROCK SLIDE AREA
7) UNEATEN APPLES
8) JOHANN DO BANJOLIM
9) CZECH AND SLOVAK MEDLEY
10) AL DI MANDOLA
11) BEAUTY, POWER AND PAIN
"Radim has reinvented the mandolin in several different ways. He has created a whole new vovabulary for the instrument."
- David Grisman
All composition are instrumental solos by Radim Zenkl except #2, 4 and 9 - traditionals.
Instruments: mandolin, hammered mandolin (1), slide mandolin (6),
mandolin banjo (8), octave mandola [mandocello] (10).
Liner notes
As your textbook case mandohead, I guess you could say I am as excited about the future of the mandolin as anyone. With Radim Zenkl on the scene, that future is in good hands. This young man left his homeland of Czechoslovakia to come to San Francisco in 19989, his future a mystery. A new land, new music, political freedom. Some of his favorite acoustic musicians were out here in the Bay Area so this had to be the place, right?
Radim is one of these truly creative minds - he is a musician, a composer, an inventor and a craftsman. He is not afraid to take a novel idea run with it: designing a new mandolin neck, building a special bridge, using different string gauges, inventing new picks, etc. With this kind of creative spirit, Radim has come up with some great innovations that seem so natural when you hear them, you almost can't believe that is took so long for someone to discover them. (While you are at it, Czech out Radim's first Acoustic Disc release, 'Galactic Mandolin'.)Musically, Radim combines old fashioned virtues and futuristic daring: his right-hand style echoes the mandolin masters of the 20s, but compositionally, his music is visionary.
Radim has revived an early style of mandolin playing, the "duo style", a technique in which the mandolinist plays two melodic lines simultaneously. While playing a continuous tremolo, the player plucks out another melody or chord on other strings, thereby playing a duet with himself. Moreover, Radim has created his own kind of duo style technique utilizing self-crafted fingerpicks that allow him to play simultaneous parts never before imagined. Czech out 'Beauty, Power and Pain', 'When I Ride trough That Forest' and 'Czech and Slovak Medley'. Also, listen for tremolo on both E and G (outside) strings at the same time in 'Eastern Feast Yearn'.
Equally comfortable with his native melodic scales and rhythms, classical music, American folk, pop and jazz styles, Radim has given us a new way of thinking about the mandolin. For a bit twisted American fiddle tune, Czech out 'Happygrass'. In the introduction of 'Eastern Feast Yearn', he plays with a pencil in his right hand, creating a hammered dulcimer-like mando sound. What a concept! Why didn't I think of that?
At a time when most mandolinist are only interested in the fiddle tune, swing-jazz or bluegrass traditions, Radim has broken free of the norm and invited a unique approach to solo mandolin composition and performance, securing himself a place at the forefront of the mandolin's future. Thank you, Radim. Czech it out, folks!
- Mike Marshall, ex Modern Mandolin Quartet