November 2015
Radim's first Instructional DVD on Homespun was released.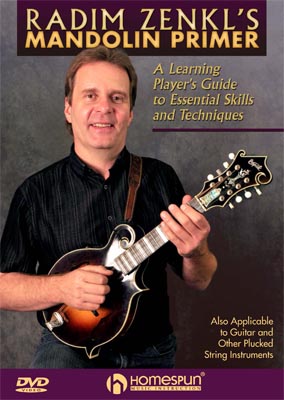 June 18, 2015
The Ger Mandolin Orchestra concert in New York.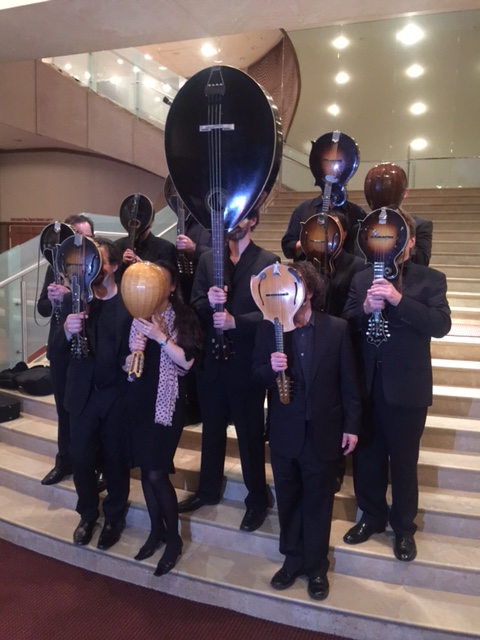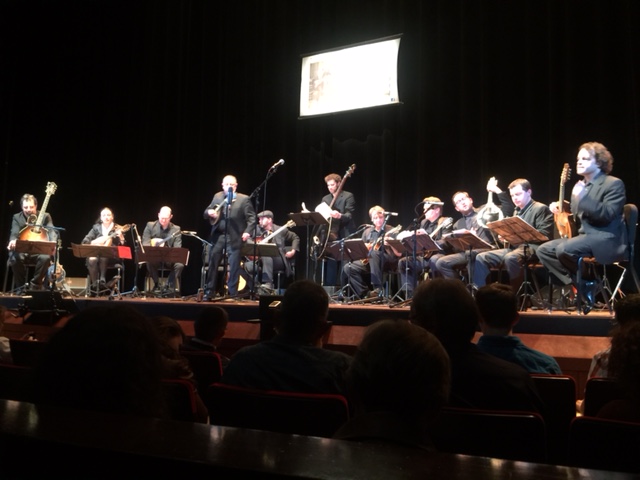 L->R: Mike Marshall, Caterina Lichtenberg, Chris Acquavella, Jeff Warschauer, Adam Roszkiewicz, Eric Stein, Dana Rath, Radim, Joe Walsh, Brian Oberlin, Tim Connell.
November 2014
Radim has joined the Modern Mandolin Quartet to replace the late Paul Binkley. R.I.P., dear friend Paul!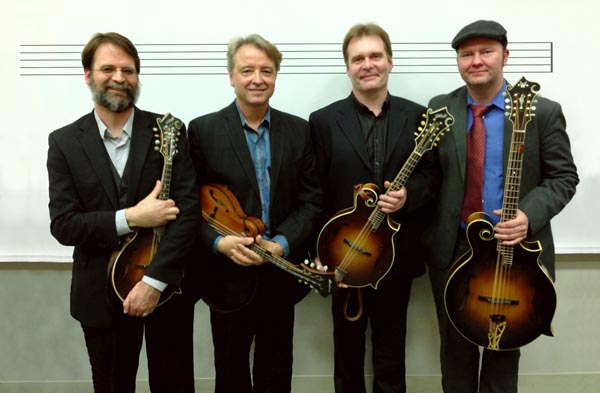 L->R: Matt Flinner - Mandolin, Dana Rath - Mandolin, Radim Zenkl - Mandola, Adam Roszkiewicz - Mandocello, Guitar
May 2013 - Three Concerts in Genova, Italy
Concerts together with John Jorgenson, Mike Dowling and Beppe Gambetta.
May 25, 2012 - Concert with Mike Marshall and Caterina Lichtenberg in Pilsen, Czech Republic
Concert featuring classical, bluegrass, jazz, choro, polkas and original music in solos, duos, trios and more.
Special guests: Petr Vrobel (mandola), Martin Krajicek (mandolin), Michal Rohrich (guitar) and Vojtech Satra (bass).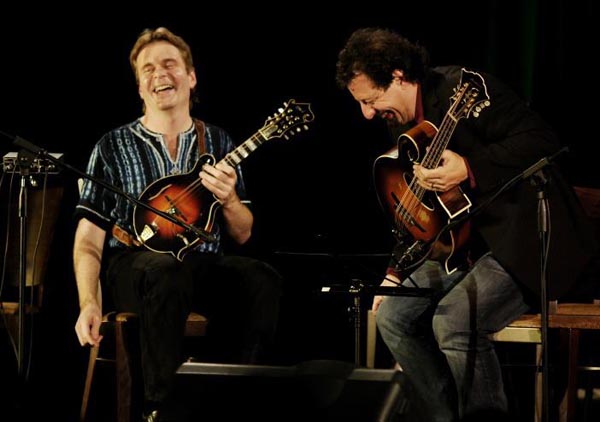 Radim & Mike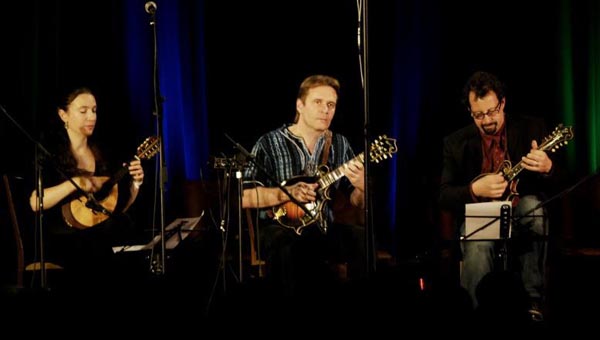 Caterina, Radim, Mike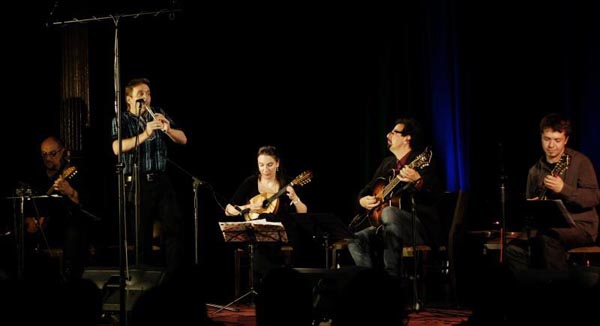 Petr Vrobel, Radim, Caterina Lichtenberg, Mike Marshall, Martin Krajicek
(Photos by Lucie 'Poupje' Poupovicova)
May 12, 2012 - Concert with Czech folk singer-songwriter Slavek Janousek
Radim & Slavek performed together for the first time a whole set of mostly original music at the festival 'Stezky vina' in Modra, Czech Republic.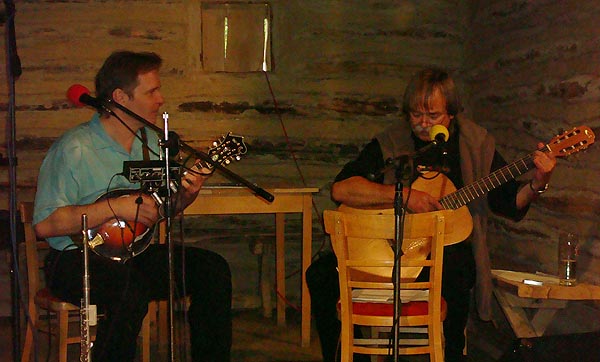 March 2011 - The Ger Mandolin Orchestra
In a musical celebration of spirit, modern day mandolin masters pay tribute to The Ger Mandolin Orchestra, the Jewish mandolin orchestra active in Gora Kalwaria, Poland in the 1920s and 1930s. Avner Yonai, the grandson of one of the few ensemble members to survive WWII, organized this project with the Jewish Music Festival and world-class mandolinist Mike Marshal as music director. Celebrating the ensemble's spirit through music inspired by mandolin repertoire of the time as well as original compositions, we can not only remember the lives lost but also give new life to their musical world.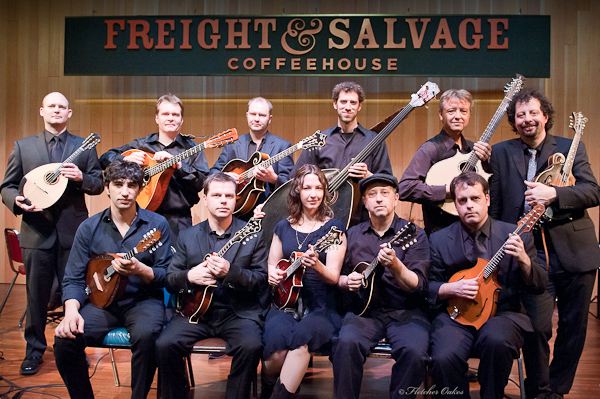 Top L->R: Chris Acquavella, Radim Zenkl, Adam Rozkiewicz, Eric Stein, Dana Rath, Mike Marshall.
Bottom L->R: Avi Avital, Brian Oberlin, Sharon Gilchrist, Jeff Warshauer, Tim Connell.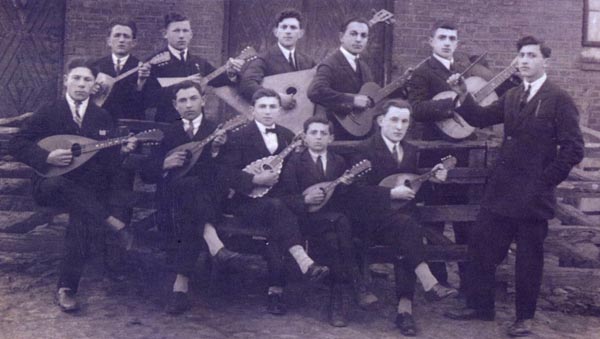 The Original Ger Mandolin Orchestra
May 2010 - Troubadour Tour CD
Radim Zenkl & Jaroslav Samson Lenk released their CD "Troubadour Tour". Jaroslav is a Czech award winning singer songwriter. Their collaboration started about 15 years ago. The Troubadour Tour concept was inspired by a set of performances in medieval castles and other historical sites in Europe. Besides their contemporary repertoire, they prepared a collection of Renaissance and Celtic tunes for this project. See video from a live show. For more details, sound samples and ordering information click on the cover.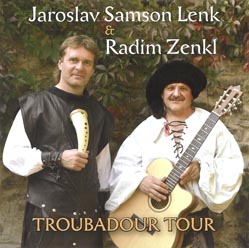 June 2009 - Europick CD
Radim Zenkl & Leo Chern - after about a decade of playing together as a duo they released their first collaborative CD "Europick", bringing fresh approach to the traditional music from around Europe. Radim plays the mandolin, nylon string mandolin and variety of whistles, Leo is on the keyboards. They are accompanied by bass and drumson most selections. This project is also Radim's recording debut as a lead singer. See video from a live show. For more details, sound samples and ordering information click on the cover.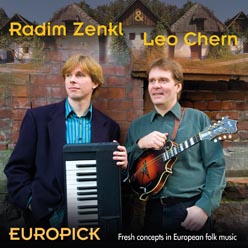 June 2008 - The Troubadour Tour
Radim together with Czech singer-songwriter Jaroslav Samson Lenk did a weeklong tour playing mostly at Czech castles and other historical sites. The program featured some medieval pieces. A CD from this tour is in making.
September 18, 2006
The Mayor of Opava City (Radim's birthplace) presented the 'Petr Bezruc Award' to Radim for his achievements in music and representation of Opava in the world. The ceremony took place during Radim's solo concert at the city's main theatre, the 'Slezske divadlo'.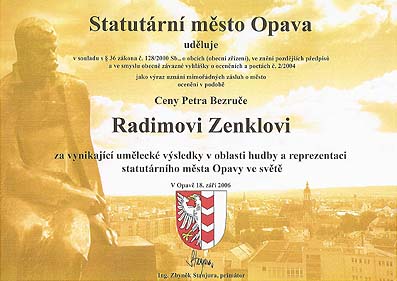 February 18, 2006
Radim visited guitar virtuoso Stanley Jordan at his music and books store in Sedona, AZ for a jam session. Stanley shared his plans to open a special school, where the basic subjects will be taught using the language of music. What an amazing concept!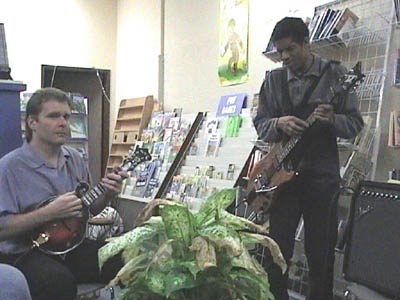 September 19, 2005
Radim was invited to perform and lecture about improvisation at the prestigious Berklee School of Music in Boston, MA. He also worked with some student ensembles.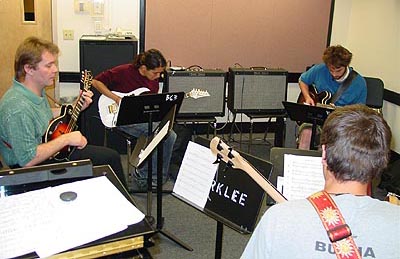 September 2005 - World of Music CD
Quartet "Festival of Four" released their second recording (Omni Records) entitled "World of Music", featuring classical, flamenco and world music. Besides quartets the CD also includes duets and a solo piece of each member. Viviana Guzman - flute, Richard Patterson - classical guitar, Guillermo Rios - flamenco guitar, Radim - mandolin. For more details and ordering information click on the cover.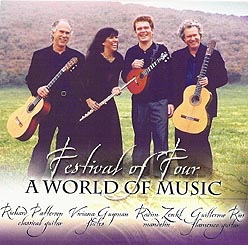 August 2005 - Tone Poets CD
The "Tone Poets" CD was released on Acoustic Disc, featuring 42 mandolinists and guitarists, all performing on the same vintage 1922 Gibson F-5 mandolin and 1933 Martin OM-45. The artists heard on the double discs (solos and duos) include David Bromberg, Bob Brozman, Sam Bush, Jerry Douglas, John Jorgenson, David Grisman, Mike Marshall, Ronnie & Del McCoury, Tony Rice, Andy Statman, Bryan Sutton, Tim O'Brien, Frank Vignola, Martin Taylor, Chris Thile, Frank Wakefield, Radim Zenkl and many more.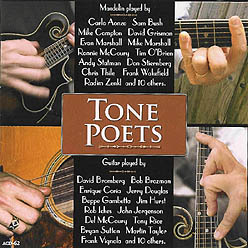 April 8-9, 2005
Radim headlined the Austin Mandolin Festival along with the Paul Glasse Trio. (It is great to see Paul back in shape!) This first annual event was organized by the Austin Mandolin Orchestra and its leader Joel Hobbs.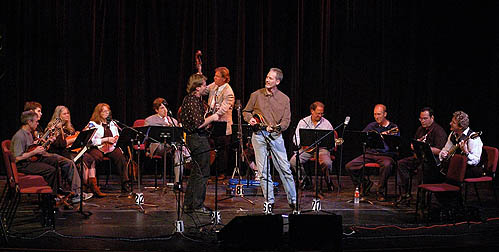 Grand Finale:
Austin Mandolin Orchestra, Radim and Paul Glasse (standing in front)
Joel Hobbs (first from the right)
March 2003
Radim joined an all star flamenco/classical/world music quartet, the "Festival of Four", replacing the classical guitarist Marc Teicholz.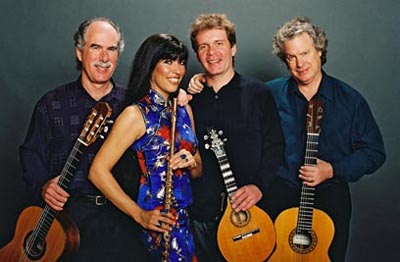 L -> R:
Richard Patterson - classical guitar
Viviana Guzman - flutes
Radim Zenkl - mandolin
Guillermo Rios - flamenco guitar
June 2002
During his tour in Slovakia, Radim got this 6 feet long overtone flute called 'Fujara', which is the Slovak national musical instrument. It quickly became a permanent addition to most of his solo performances.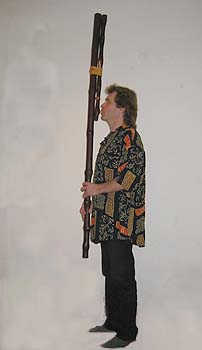 (Photo by Karoline Scheffler)
October 2001
The Mandolin Magazine published a cover article featuring Radim Zenkl. Read the story.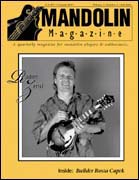 March 2001
Radim joined the Modern Mandolin Quartet for a mid-west tour. The line-up was:
Chris Thile - first mandolin
Dana Rath - second mandolin
Paul Binkley - mandola
Radim Zenkl - mandocello
February 7, 2001
Tony Trischka & Radim Zenkl at the Last Day Saloon, San Francisco. This concert was a part of the San Francisco Bluegrass Festival. Both Radim and Tony played solo sets, then the third set together featuring their original music along with bluegrass and folk traditionals.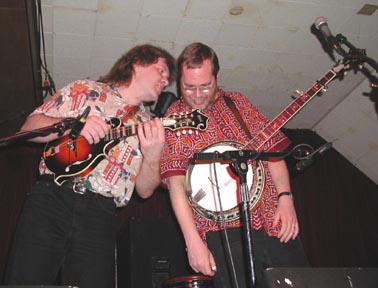 (Photo by Ted Silverman)
January 2001
Radim received a custom 4-string mandola from the Breedlove Guitars company. There are plans for conducting "Mandolin and Guitar Clinics" held at the Breedlove Guitars' dealers.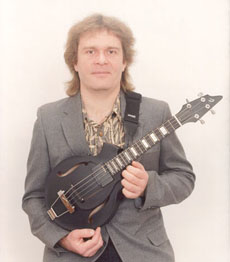 March 28, 2000
The Rudy Cipolla Memorial Tribute was a big success, two sold out concerts. First half of the show were Radim Zenkl (solo), Mike Marshall and Darol Anger (duo) and David Grisman (with members of his quintet) performing some of their own music, joined for the second half by several friends for a set of entirely Rudy Cipolla music.
See photo of the whole Rudy Cipolla Memorial Band
March 11, 2000
Peter Rowan, The Zen Tricksters and Radim Zenkl played in Portland, OR at three separate concerts. At midnight Peter and Radim joined the Tricksters for a set at the Crystal Ball Room.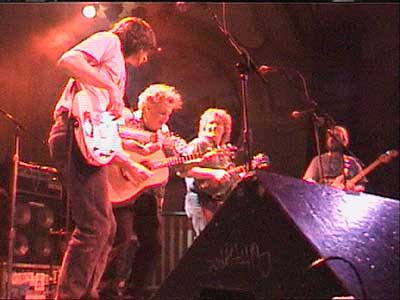 (Photo by Douglas Houk)
November 1999
Radim's CD titled "Restless Joy" was released. It features his solo pieces as well as group projects. Radim plays mandolin, mandola, Irish bouzouki, nylon string mandolin and slide mandolin on the CD. Music style corresponds with bluegrass, new age, Irish, classical and other. The techniques include finger picking and a duo-style. The guest musicians are Michael Manring, Leo Chern, Suzanne Teng, Richard Mandel, Paul Donnelly and John Hanes. For more details and ordering information click on the cover.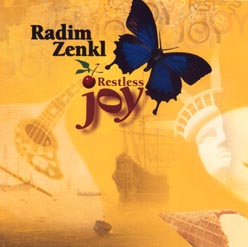 October 1998
Radim has started a collaboration with Czech master musician Leo Chern. Leo plays keyboards, bass, percussion and also composes. He comes from Ostrava, the same city as Radim. Even though they never met in Czech Republic, their musical and cultural connection is natural.
Photo from the tour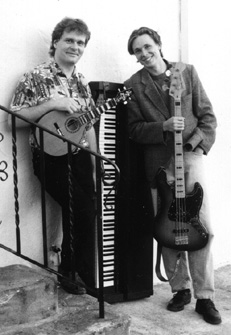 (Photo by Merica Fooks)