Europick
Fresh Concepts in European Folk Music
Radim Zenkl & Leo Chern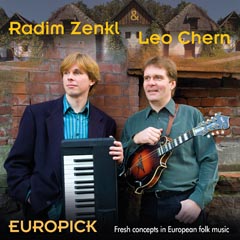 Ventana, VEN-3401, 1999
Produced by Radim Zenkl
Radim Zenkl - mandolin, nylon string mandolin, pennywhistle, low whistle, flute, fujara,lead and harmony vocal
Leo Chern - keyboards, bass, harmony vocal
Special guests:
Andrew Higgins - bass
Vince Littleton - drums, percussion
Adam Weissman - drums
Liner notes:
Radim Zenkl
Originally from the communist Czechoslovakia, Zenkl defected to the USA in 1989 for political freedom and to be closer to his musical influences. Two years later he was invited to perform for the newly elected president of the Czech Republic, Vaclav Havel. The following year Zenkl won the US Mandolin Championship. He has performed with the David Grisman Quintet, Jerry Garcia, Sam Bush, David Lindley, Dan Hicks, Peter Rowan, Tim O'Brien, John McCutcheon, Mike Marshall, Chris Thile, Michael Manring and the Zen Tricksters, has shared the stage with Bela Fleck and the Flecktones, Tuck & Patti and the Preservation Hall Jazz Band, and has recorded with Tony Rice, Jerry Douglas and Rob Wasserman, among others.
Presently, Zenkl is at the cutting edge of mandolin's future, designing new instruments of the mandolin family and creating new playing techniques, such as his own 'Zenkl' style, which allows him to sound like two instruments simultaneously. He has recorded five successful solo recordings (released on David Grisman's 'Acoustic Disc', 'Shanachie' and 'Ventana') and appeared on more than fifty others as a studio musician. Zenkl's worldwide performing and teaching credentials include guest appearances at prestigious music institutions such as the Berklee College of Music in Boston and the Sibelius Academy in Helsinki, Finland. Besides the mandolin, Zenkl also plays a variety of ethnic flutes from many countries around the globe. His home page is at: www.zenkl.com
Leo Chern
Chern, also a native of the Czech Republic, founded the folk/rock band Odpich, which won the Czech National Band Contest for three consecutive years (1993-1995). Chern composed sound tracks for the Polish/British movie "Workers" (1994), the Austrian film "Lake" (1995), and was invited to join the exclusive World Association of Music Composers based in Washington, D.C. In the Spring of 1998, Chern moved to the United States.
Currently, besides performing with Zenkl, he plays in a duo with the Grammy nominated gospel singer Julienne Johnson, and collaborates with the Portland Community College in Oregon as a guest lecturer and a music director of the theatre program. Chern is also the accompanist of the PCC choir with whom he annually performs a number of benefit concerts.
Radim Zenkl & Leo Chern
Zenkl and Chern share common roots, both with origins in the city of Ostrava in the Czech Republic. Though they never met in their home country, their musical and cultural connection is natural. Their shared musical interests includes a variety of genres, spanning from traditional folk to contemporary styles. "Europick", their first collaborative CD released in 2009, features fresh concepts in traditional music from around Europe.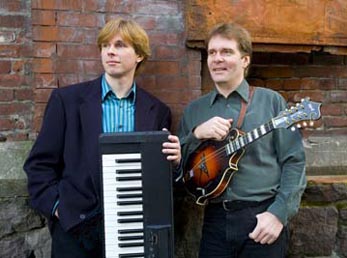 (photo by Stephen Jones)