Galactic mandolin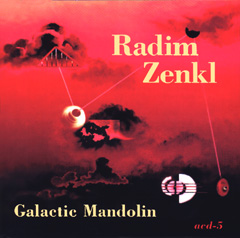 Acoustic Disc, ACD-5, 1992
Produced by Radim Zenkl

Production guidance by David Grisman
1) UNPREDICTABLE BIRDS
2) THE FIRST RECRUIT DESERTED
3) WELCOME TO THE MOON
4) MEMORY OF JAROSLAV JEZEK
5) THREE WEEKS IN EMPTY HOUSE
6) I'M SINKING IN THE DRAIN
7) HELLEBRATIONS
8) FARAWAY OVER THE MOUNTAINS
9) WILD LIFE REFUGEE
10) CHOROLOGY
11) LIQUOR LICKER
12) MARTIANS' MARCH
13) LAST SUPPER
"Most wildly original mandolin music you may hear in this world or any other. Zenkl is one of the most creative instrumentalists of any kind we've heard - sometimes shocking, somethimes lyrical, always brilliant!"
- Elderly Instruments
All compositions are mandolin solos by Radim Zenkl.
Liner notes
Radim Zenkl, born in Czechoslovakia in 1966, is the new kid on the mandolinblock. Having pursued the unlikely career of a newgrass mandolin player in Eastern Europe, Radim managed to record the first mandolin album ever made in Czechoslovakia, 'Mandolin Parade', before moving permanently to the U.S.A. in 1989 to get closer to the source and for political freedom.
We met shortly thereafter at a Bill Monroe concert, and since then I have invited him to perform at several workshops and concerts. In this short amount of time, Radim has made a thorough exploration of various cross-tunings, and developed a very personal solo mandolin style. Radim's style is original, unique, and revolutionary, yet well rooted in an extensive study of all of the great American mandolin stylist from Dave Apollon to Bill Monroe to Jethro Burns. Radim plucks, strums, bows, and hits the mandolin ( with pencil), eliciting sounds previously unheard (and perhaps unthought) of.
This recording is possibly the first album of original mandolin solos ever made, and certainly the only one in witch each piece is in a different tuning. Beyond that there s the music: exciting, sophisticated, challenging, and yes, funny. But there is also the heart and soul of a rising young mandolin talent. Open up your mind and ears and give a listen.
- David Grisman
This music reflect some of my new experiences in America, while remaining influenced by memories of my native country. In this album the mandolinis tuned differently for each composition. The first piece is written in regular tuning (EE-AA-DD-GG). In each piece that follows, every other single string from all four pairs of strings is tuned down a half tone (EEb-AAb-DDb-GGb, (ED-AG-DC-GF), thereby using all intervals from unison to octave. This requires the use of different gauges of strings, ranging from 0.0008 to 0.0085 and also a self crafted bridge, adjustable for each string. The mandolin used this recording has an extra wide fingerboard, however the scale is the usual 137/8 inches.
- Radim Zenkl