Strings & Wings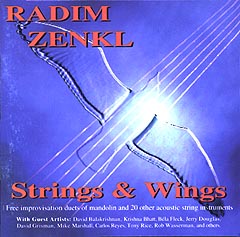 Shanachie 5021, 1996
Produced by Radim Zenkl
1. ON THE TRACKS OF ANCIENT TIMES
(Tony Rice-guitar) 3:15
2. MYSTERIOUS MUSHROOM HUNTER
(Jerry Douglas-dobro) 3:40
3. UNLEASHED MEMORIES
(Joel Lindheimer-charango) 3 :00
4. ACROSS THE STORMY SEA
(David Balakrishnan-violin) 3:03
5. NIGHT IN THE PYRAMID
(Mike Marshall-mandocello) 4:05
6. RELEASE OF THE SPRING MESSENGER
(Alexander Eppler-balalaika) 3:35
7. AND THE MORNING CAME
(Miya Masaoka-koto) 4:22
8. UP AND DOWN THE NEW LAND
(Mark Summer-cello) 3:05
9. MEETING AFTER YEARS
(Bryan Bowers-autoharp) 3:26
10. FROM THE CASTLE TO THE WOODS
(David Grisman-mandola) 3:15
11. SUSPICIOUS SPECIES
(Krishna Bhatt-sitar) 3:03
12. TRIBAL CALLING
(Steven Strauss-ukulele) 3:18
13. LETTERS OF HOPE
(George Mylordos-bouzouki) 3:38
14. BEAR AND BIRD
(Rob Wasserman-bass) 3:30
15. ONCE AGAIN BACK HOME
(Mike Masley-cymbalom) 4:51
16. ESSENTIAL CRUSADE
(John Bilezikjian-oud) 3:45
17. INVITATIONS
(Bela Fleck-banjo) 4:10
18. WINTER PILGRIMS
(David Schnaufer-mountain dulcimer) 3:18
19. KNIGHT BY THE WINDMILLS
(David Miles-hurdy-gurdy) 2:44
20. WHEN YOU SAIL AWAY
(Carlos Reyes-Paraguayan harp) 5:04
"Great collection of new sounds and combination of sounds.
I am sure Zenkl will play an importatnt role in shaping the future of mandolin."
- Dix Bruce, Mandolin World News former editor
All music was composed spontaneously in recording
studios by the participating musicians.
Liner notes
Strings & Wings, the concept
My previous two albums are solo mandolin projects where virtually all the music is composed, arranged and rehearsed prior to being recorded. For this project I wanted to present music that is created spontaneously. The idea of making an album of duets has always intrigued me, as it offersthe great experience of playing with a variety of musicians. There areseveral existing albums of duets where the music is either composed by themain player or consists of standard and traditional tunes, but I was compelled to try entirely free improvisation. Two musicians seems to be an optimal number for this kind of musical communication.
The project features acoustic string instruments exclusively and presents a collection of various instrument families. They represent many nations, ethnic groups, traditionsand music styles. The result is a variety of plucked, picked, strummed, bowed and hammered sounds. Each composition features a player who embodies a unique style on the particular instrument and who has broadened its limits. I am delighted to present these musicians, many of them legends of their instruments, and my personal all-time heroes.
For each duet we met at the recording studio (in some cases it was the first time we ever played together). One of us would start playing and the other would join in. (In a few instances there was the suggestion of an initial key suited to the particular instrument). What follows are spontaneous and mystical duets that have captured a soulful exchange of two musicians at that moment in time. This musical interplay would not have worked if planned. It is the difference between reading a speech that has been edited several times and really speaking from the heart. As with free spirits, the results were unpredictable. You may discover something new each time you listen to this recording. Thank you for joining the adventure!
- Radim Zenkl
'Strings & Wings' CDs are temporarily out of stock.
There are plans for a future release.